Ill be part of the Venice contemporary spring invitational show come March 24th. Hope you can make it.
www.thevenicecontemorary.com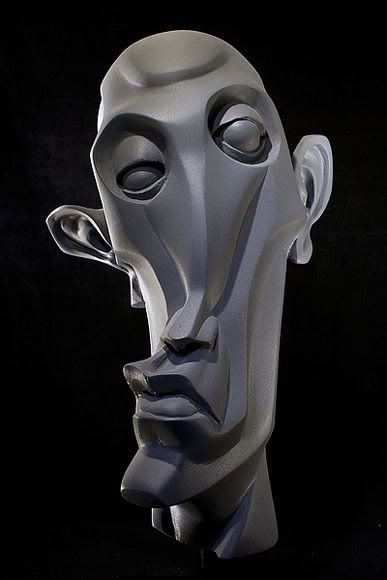 I call this piece the abstract head. Once again I would like to thank my
good friend Phil Holland for doing such an awesome job of photographing
my sculptures.
I made this guy back in April of 2004 following my near "life" experience. I side swiped and flipped over a semi truck on the 105fwy while driving to work. My truck was completely totaled except for the 4x4 foot area in which I sat. All I walked away with was a bruised knee. Some people find Jesus after such events, I probably would have to if I didn't already know that Jesus is in jail. The reason I know of such info is because every homeboy I know that comes out of jail tells me that he found Jesus while he was locked up. (padump-dump-pishhh)
Instead of Jesus, I found my brains a bit rattled and an 8000 dollar check from the insurance company. So, what to do with an 8000 dollar check? The only reasonable thing to do, waste it on hookers, booze, and art materials. One of the positive things that came out of me running a muck around town with an 8000 dollar check was this abstract head that I sculpted over the course of three nights following the accident. Know that I think back to that split second of my life Ididn't have very much to say while I was staring down that semi. Some people say that their life flashes before their eyes or the words "dear lord", I believe all I said was "Awwwwwww Fuck!" And at the moment of impact I suppose my face did look a little like the Abstract head.